May condo sales update for 30a
Eight years after the financial crisis of 2008, the 30A condo market has made significant progress recovering. However, some are concerned we have come too far, too fast. In light of that opinion, I'm going to walk through these annual price increases. I'm also going to compare key differences between today's market and the 30A real estate market pre-2008.
30A Condo Sales History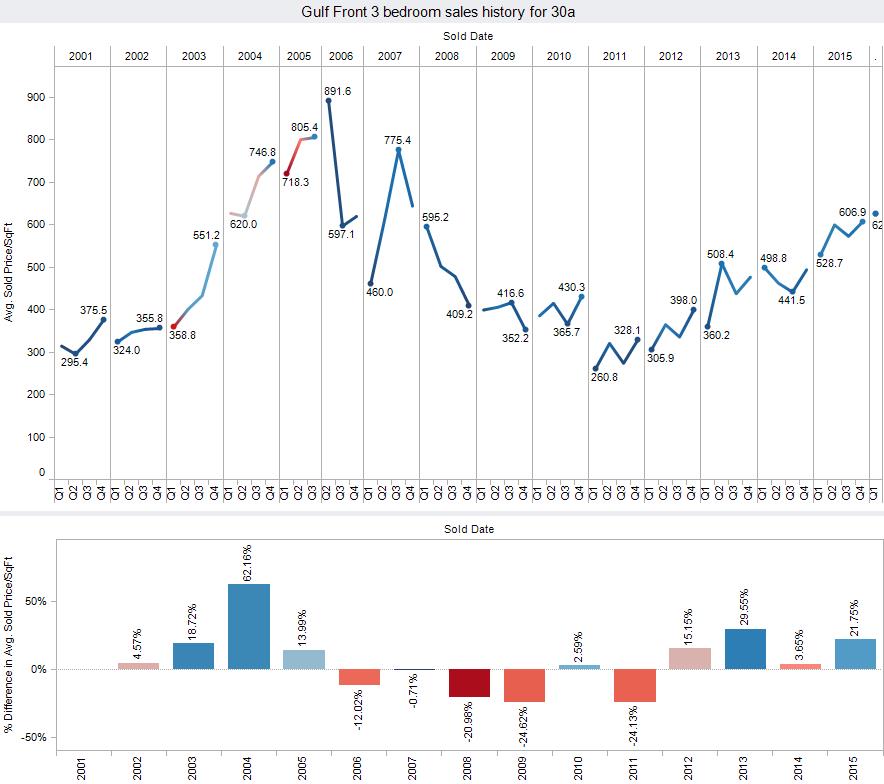 In 2011, the 30A condo market had reached its lowest point, and in 2012, the market began an upward turn that saw steady gains throughout the next four years.
In 2013, several Watersound Beach condos were sold. Because these condos sell for a much higher price per square foot, these sales accounted for the majority of the 28 percent increase that year. In 2014, the rest of the market was catching up at a slower pace, so there was only a 4 percent price increase. Then, in 2015, we again saw a 22 percent increase due largely in part to higher-priced condos being sold. Currently, the 2016 first quarter numbers show the market edging upward slightly to an average of $626 per square foot.
As we look at the average market gains, it's important to note that condominiums may sell at wildly different prices per square foot. Different buildings and locations command different price points. The graph below demonstrate this.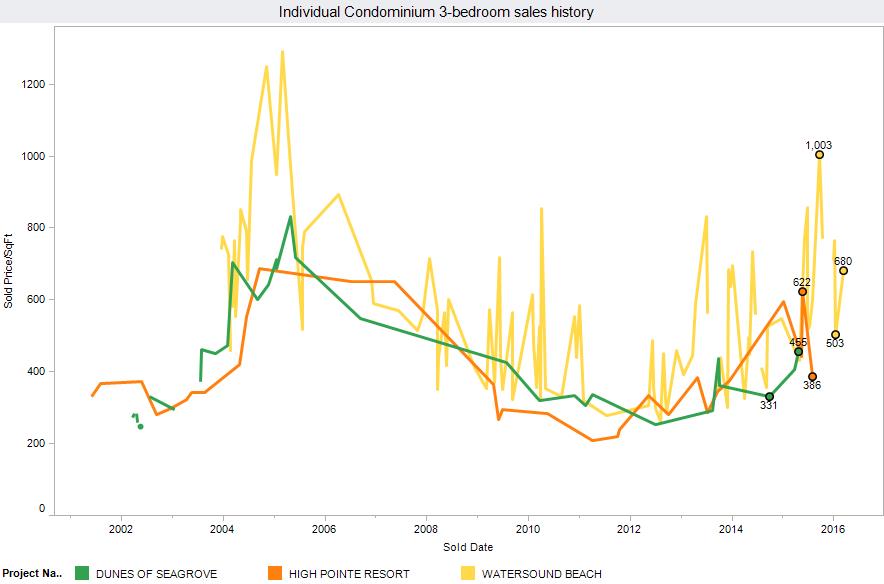 To illustrate the differences in individual condominium prices per square foot, let's look at three condos with strong sales volumes. It's clear that different buildings sell at varied prices per square foot. Because the 30A market is highly specialized, sales prices between individual units and buildings within the same property can fluctuate drastically based on a number of factors, including the view, floor level, features and finishing.
The 30A Market Then And Now
First, we'll look at the pre-crisis market. In 2004, there were a lot of buyers who were purchasing properties just to flip them. There were also several large condominium complexes in the preconstruction process, which set the stage for the market to be flooded with inventory at a time when buyers didn't intend to keep the units long-term.
Now, we are seeing condo buyers looking for a secondary residence that suits their long-term needs. This means fewer properties being sold at once. In response, we're also seeing much smaller preconstruction projects.
Should We Worry About Another Real Estate Bubble in 30A
Although we have seen seven new preconstruction projects, there is certainly not a huge supply of inventory being conveyed to the market. After the financial crisis came to a head, financing also changed significantly. Where there were numerous loan options available in the pre-2008 market, now the lending criteria are incredibly strict. In fact, the market may have over-corrected to the point of being too stringent with their lending requirement verification requests.
Judging by the current market outlook, I believe we have struck a balance between supply and demand in the 30A market. New buyers are seeking out long-term residences that suit their lifestyles, and speculative buyers have largely left the market. When we add the banks' stricter loan policies to this market shift, I think that the market has a much different and more positive feel.
Here are a list of the current Santa Rosa Beach condos for sale.