Record Breaking Sales in Rosemary Beach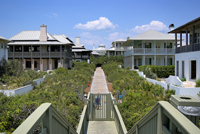 Residential property sales in Rosemary Beach are positively sizzling, much like a typical summer day in the balmy south. The $23,383,333 worth of sales occurring during the month of July alone reflect a volume greater than that registered in the whole of 2006, 2008 and 2009, respectively, and vaulted the month's figures far beyond the prior dollar volume record for Rosemary Beach properties, registered back in August 2004. Three of the July transactions were for Gulf-front residences, though two of them represented cash deals. It is truly telling, and quite astounding that sales in Rosemary Beach alone accounted for roughly a third of the nearly $75 million sales tally for South Walton in its entirety.
In 2010, 38 residential properties in Rosemary Beach were sold, making it the second best sales year in history, based on statistics provided by the Emerald Coast Association of Realtors (ECAR). By July 30 of this year, ECAR data indicate that 23 properties had already been sold, totaling $53.6 million. 2010 saw full-year sales volume on residential properties in Rosemary Beach totaling $43.7 million. That figure has already been shattered with five months yet remaining in 2011.
As greater numbers of homeowners have sought to place their properties on the market, available inventory has jumped to 79 homes, up from a low of just 62 properties back in January. Based on sales numbers alone, the current level is perfectly on pace with that of the prior year, which at the time was the second most successful year on record, falling just behind 2004.
July of 2011 logged the sale of five homes, the list price of each averaging $5,297,600. Final sales prices of those properties averaged $4,676,666, translating to $1,117 per square foot.