Rosemary Beach Market Update March 2014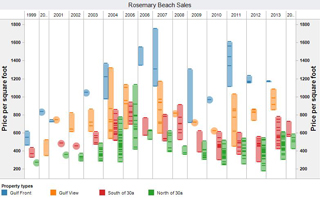 Rosemary Beach is blessed to have a deep lineup of architecturally unique, expertly designed homes, many of which boast Gulf views or occupy Gulf front property. While this is welcome news for prospective home buyers in the area, it makes the pricing of these diverse, exclusive homes a bit less predictable than in less distinctive developments. It's difficult to arrive at an "average" home price for Rosemary Beach. To a certain extent, the area's pricing is more art than science.


That said, prospective buyers can get a solid feel for the market by comparing price ranges on different classes of properties. Accordingly, we've included a number of graphs that break down pricing for homes on either side of Highway 30A as well as Gulf view and Gulf front homes.
2012
Click on image below to see the full size graph
In 2012, sales at Rosemary Beach continued to accelerate from the levels of the 2007-2010 period. In a key indicator of a stabilizing, increasingly healthy market, buyers saw that prices had reached a clear low point and moved to take advantage of these opportunities.
The area saw 47 total sales in a broad range between $172 per square foot and $1,229 per square foot. The lowest-priced home, however, was located north of Highway 30A and represented one of the development's 11 distressed sales for 2012. As the number of distressed property sales declined throughout the year, home prices at Rosemary Beach began to rise.
2013
Last year, three of Rosemary Beach's four main housing categories - north of 30A, south of 30A and Gulf view - saw substantial price increases. The fourth category, Gulf front, remained roughly in line with its 2012 levels. As we predicted, distressed sales continued to decline as prices ticked upwards. Overall, 2013 saw 45 sales in a range from $300 per square foot to $1,172 square foot.
2014
We're extremely encouraged by the level of buyer interest that we've seen during the first quarter of this year, and we expect 2014 as a whole to be another strong year for Rosemary Beach. As the popularity of Rosemary Beach and the entire 30A corridor continues to grow, it's no wonder that our sales have been so strong.