Seacrest Beach Sales History April 2014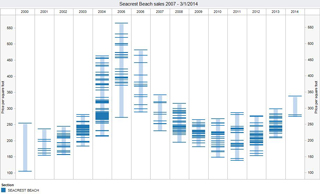 Like other communities on this beautiful stretch of Highway 30A, Seacrest Beach's housing market has experienced some changes over the past few years. However, the area's incredible amenities support local real estate prices and have helped it bounce back strongly from a difficult period. As indicated on this graph, housing prices and transactions jumped to their most robust levels since the mid-2000s in 2013 and the first quarter of 2014.


The story of Seacrest Beach began in 2000. Back then, the area was little more than a picturesque grove of trees with a far-reaching vision for a quaint, welcoming community with a distinctive "Old Florida" look and feel. Thanks in part to its prime location near the community's 12,000 square foot lagoon-style pool, Seacrest Beach's first home sold for $252 per square foot.
Click on image below to see the full size graph
By the following year, it was clear that word was spreading about Seacrest Beach's charms. In 2001, seven homes were sold at prices that ranged from $153 to $234 per square foot. The momentum grew in 2002: As the community's reputation blossomed, 21 homes changed hands at price points of $155 to $242 per square foot. It seemed as if homebuyers just couldn't get enough of the community's easy water access and beautiful, convenient setting.

As Seacrest Beach continued to expand, 2003 became its best year to date. 37 homes changed hands at price points of $181 to $279 per square foot. Most residences were sold at prices that exceeded $200 per square foot. In 2004, prices and activity rose even higher: 70 sales were recorded at prices ranging from $212 to $460 per square foot. At an average of more than one sale per week, this rate broke Seacrest Beach's sales record to date.

In 2005, the community's home prices continued to rise. As the year wore on, however, it became clear that buyer interest was waning at these price points. The year saw just 26 sales, but Seacrest Beach did notch its all-time price record of $562 per square foot. The year's lowest sale price came in at $270 per square foot.

By 2006, activity was showing clear signs of decline as the national housing bubble began to deflate. Only 13 homes changed hands at prices ranging from $287 to $479 per square foot. In 2007, this trend continued: 11 homes sold at an average price of $281 per square foot. While a jump to 33 sales underscored a clear uptick in activity during 2008, prices continued to drop. A 9 percent fall to an average sale price of $256 per square foot indicated that sellers continued to outnumber buyers in Seacrest Beach.

As the market continued to adjust, 2009 also posed some challenges. The per-square-foot price of homes sold dropped 14 percent to $224, and total sales came in at 22. While this number rose to 24 in 2010, that year's average sale price dropped another 5 percent to rest at $213 per square foot.

By 2011, however, Seacrest Beach was showing signs of stabilization. The year saw 20 sales, one-third of which involved distressed properties, and a minimal drop to an average price of $209 per square foot. By the following year, sales volume had risen to 32. About one-third of homes sold in 2012 were distressed as well.

As we look back on 2013, it's clear that Seacrest Beach is in the process of a robust housing market recovery. The year saw 31 homes sold between $207 and $297 per square foot, and just two of these sales were distressed. In fact, the average sale price spiked to $245 per square foot. With a 10 percent increase during the first quarter of 2014, this trend looks set to continue for another year.

After stabilizing in 2011 and 2012, Seacrest Beach's real estate is poised to build on its momentum in the months ahead. With few if any distressed properties remaining, the area's sellers will find plenty of support for their asking prices. 2014 looks to be a bright year for this beautiful Florida community.