click above to see Rosemary Beach homes for sale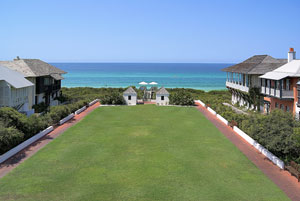 When Adres Duany and Elizabeth Plater-Zyberk designed the real estate in Rosemary Beach, they made sure the town reflected the core values of an era that vanished half-a-century ago. They weren't looking for a modern co-op of cul-de-sacs, congestion and causeways. Their take on a truly modern town delights in pedestrian activity, neighborhood cooperation and interaction within the community. Gridlock might be the daily special for some cities, but it
Rosemary Beach Amenities
Click on any image below to enlarge.
Rosemary Beach's architectural synergy didn't happen by luck. A careful layout of private homes and public areas keeps all destinations within a five-minute walk. A network of boardwalks, paths and secret trails converge on the beach, the town square, swimming pools and tennis courts. The pleasant harmony is guided by enforced regulations and urban codes. Vehicles must remain out-of-sight, parked in the alleys behind the homes.Even the roads at Rosemary Beach deferred to the natural lay of the land. There are no ugly holding ponds or storm drains. Water permeable concrete was used for the paving, allowing precipitation to seep into the sandy foundation naturally.
Furthering the unique vision and temperament of Rosemary Beach real estate, the design, placement and construction of all residencies and buildings were guided by good sense. Twelve basic building styles set the character of every neighborhood. This intricate blending of custom homes accommodates a full range of individual preferences while maintaining the integrity of the towns concept and design. Their customizations and variations exhibit the individualism of the inhabitants. Like a handmade quilt, the homes and owners all fit together in their unique, whimsical fashion.
Rosemary Beach's strict urban code guarantees architectural integrity, harmony and purpose. The afternoon sun is dissuaded by deep eaves. The high-ceilings summon cooling breezes. The environmentally-appropriate buildings were designed and built specifically for Rosemary Beach. The homes are finished in stucco, cedar shingle or wood siding. The metal and shingle shake roofing increase the beachfront appeal. Pastels and earth tones reflect other famous seaside cities like Charleston or New Orleans. Outdoor European touches like courtyards, gardens, fountains and porches further show the classic influences and Utopian ambitions of this idyllic village.
There are also seven different condominium buildings in this community. Most are situated around Barrett Square. There are a number of Rosemary Beach condos for sale. Find the one that is right for you.
Map of Rosemary Beach Florida