click on button above to see Santa Rosa Beach homes for sale.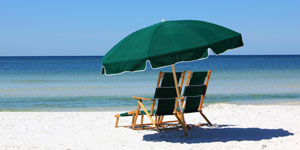 The town within Santa Rosa Beach stretches past Highway 98 and continues southbound along 30-A. It is one of the oldest beach districts in the area of South Walton. The history dates back to 1910 when the turpentine industry flourished. Since then, the area has developed a thriving culture with luxurious hotels and beach homes, fine dining and a vibrant art community.
To many locals, the Santa Rosa Beach is synonymous with South Walton itself. Its famous stretches of beach continue to attract visitors and tourists from around the world. The Santa Rosa Beach Golf Club offers plenty of outdoor enjoyment. The sparkling waters and eight miles of solid beach are a veritable paradise for people who enjoy the coastal experience.
Homes for sale
Yahoo Travel named Santa Rosa Beach one of the 10 Best Beach Destinations for 2011, and it was eloquently described as endowed with lapping waves and cool sand. The planned communities and homes that line the hills of Blue Mountain are inviting to prospective residents.
The slow pace of life is a rewarding experience for the residents and visitors of Santa Rosa Beach. The continuing existence of a quaint local ice-cream truck is a reminder of a previous era. The long pedestrian paths encourage languid evening walks, and the extensive stretches of beach promote the enjoyment of the cool evening breeze along the well-preserved seashore.
Map of Santa Rosa Beach