click on button above to see Watercolor homes for sale.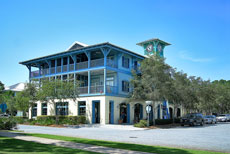 Slipping away from the daily grind and stress of the work world to a quieter place, a relaxed place, a safe place is still possible, and there is just such a watercolor real estate property built with you in mind and awaiting your inspection. Nestled along the Gulf of Mexico and surrounding a lovely 220 acre dune lake, the Watercolor homes for sale here offer everything you could want and even more.
Pictures
The 499 acres of this expanded community are divided into cozy neighborhoods reminiscent of those days when Southern folks gathered to visit on their broad front porches over iced lemonade in the cool of the evening. Parks and natural woodland trails are sprinkled throughout for hiking, biking, or leisurely strolls. Golf courses and tennis courts are nearby. Of course there are pools and gardens to enjoy as well as the ever-inspiring ocean vistas.
More about Watercolor
You may feel as if you have slipped back in time when you purchase one of the 1000 home sites or Watercolor homes for sale, but the welcome amenities of modern life are right at hand. From gourmet restaurants to boutique shops, to scheduled cultural events, you can be as close to today as you choose.
Watercolor real estate appeals to those who want more from life, people like you, who care about beauty and simplicity and the good things that come to you when you are not too rushed to enjoy them. This is one coastal resort community that has your name written all over it. Come on down and see for yourself.
Map of Watercolor