Dune Side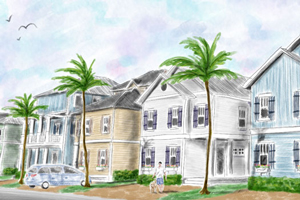 Dune Side is situated in Blue Mountain Beach along Hwy 30A and contains 22 homesites. The neighborhood has a small park for homeowners and high-quality landscaping. The residences are located within 350 yards of the beach. Moreover, Dune Side's houses were designed by the Premier Development Group, which has created the blueprints of hundreds of luxury homes in the region. Chi-Mar Construction is the builder and has a strong tradition of constructing quality homes that can be enjoyed for generations to come.
Homes for sale
Choosing a Property
Buyers can select three-story houses or residences that have two floors, and each homesite provides space for an outdoor pool and a sizable porch. Some houses also contain a relatively spacious office. Every residence features three to four bedrooms and at least three bathrooms, and each house has a total area ranging from 1,690 square feet to 2,843 square feet.
Convenient Transportation
The neighborhood is particularly close to Hwy 98, which provides access to Miramar Beach, Destin, Laguna Beach, Panama City, Fort Walton Beach and Pensacola. Dune Side is also positioned within three miles of Route 331, and the neighborhood's homeowners can use a shuttle that will transport them to the area's picturesque beaches.
Exploring Attractions
Dune Side is near Washington Point State Park, Grayton Beach, Topsail Hill Preserve State Park, various art galleries and the Museum of Man in the Sea. Guests and residents may also tour the South Walton Visitor Center and TDC, and this facility helps new homeowners to find attractions in the area and provides lists that indicate the dates of local events. Additionally, the neighborhood is close to Henderson Beach State Park, which features numerous trails, a playground, extensive beaches, a boardwalk and a campground.
If you're looking for other Blue Mountain Beach homes for sale, check out our main page.
Floor Plans
click below to see the floor plans.
Amenities
Location