Watercolor Phase V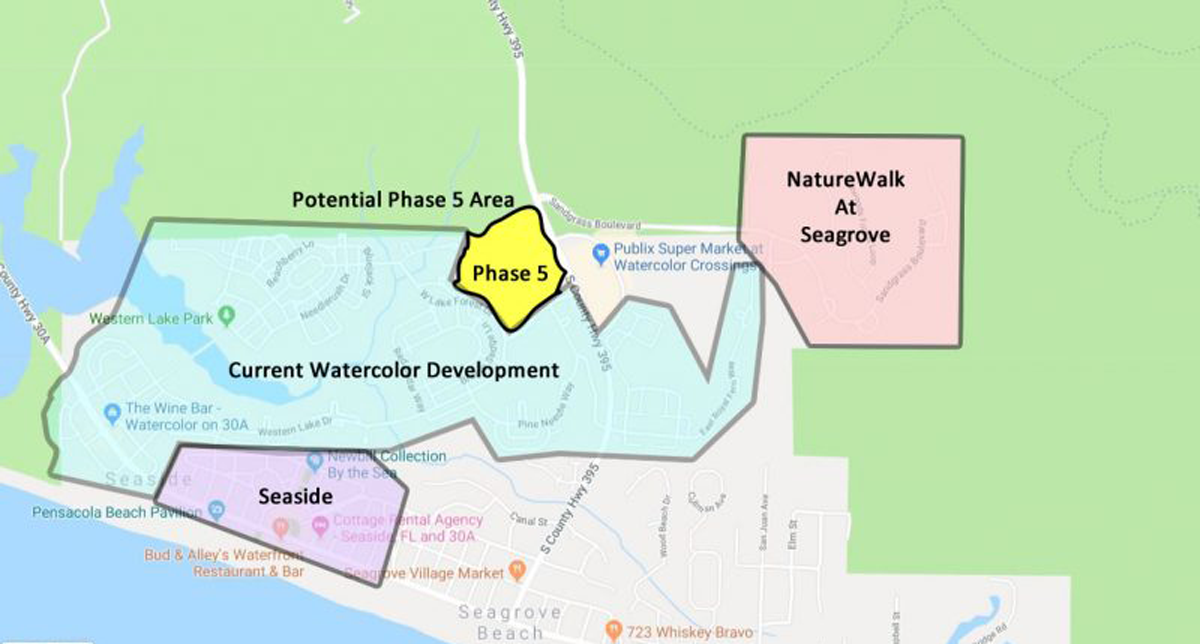 Nestled in Northwest Florida's South Walton County along scenic Highway 30A is the planned community of WaterColor. Developer St. Joe Company began construction in the year 2000 and then in 2014 turned WaterColor over to the HOA. Currently there are approximately 970 units including condos, and more are constantly being built. Once finished, the community of WaterColor is expected to have around 1,022 units.
According to the developer, Phase V is in planning to be added near the WaterColor Crossings shopping center with an entrance off of Lake Forest Drive. This will add 41 more homes with no short-term rentals allowed and a swimming pool for homeowners only. Next steps for the developer include obtaining a development order, platting and obtaining building permits. So it could be some time before construction is likely to begin. 
Currently there are 42 single-family Watercolor homes for sale and 12 others pending. The year 2019 has seen the sale of 43 homes with the highest priced (in Phase I) selling at $5,150,000 and the lowest priced (in Phase IV) at $885,000.

8 Watercolor condos are available with 2 pending sales; one of the units North of 30A sold for $810,000.

At the moment, no lots are available, and 5 sold in 2019. The highest priced lot, located in Phase II, sold for $1,550,000 and Phase III sold the lowest for $429,000.