25 Central Square Condo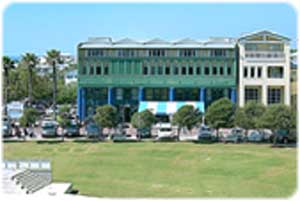 The 25 Central Square Condominium, built in 1996, resides in the heart of the quaint, cozy Seaside community. The building, which combines retail, office and residential units within four floors, is an award winning design by Boston architecture and design firm Machado and Silvetti Associates. The first floor contains retail space, the second floor contains office space and the top two floors comprise the seven condominium units of three different floor plans.
The two units on the building's west side cover 1,360 square feet each and have two bedrooms and two and a half bathrooms. The five units on the building's east side each have a one bedroom and one and a half bathroom floor plan available in either 840 or 910 square feet. The five units overlook Seaside's pivotal Central Square, the amphitheater and the Gulf. Each unit includes a private patio complete with a hot tub. A controlled elevator services the residential units, and a patio and terrace are in place for residents exclusively to enjoy. The building's frontage was designed according to the mandates of the Seaside Design Code, which aims to preserve the integrity and characteristics of Seaside's essence that requires buildings to blend with and enhance the town as a whole.
If you're looking for other Seaside Florida condos for sale, check out our main page.
Floor Plans
Click below on any of the units to see the floor plan.
Site Plans
click below to see the site plan.