WaterColor Condo 1660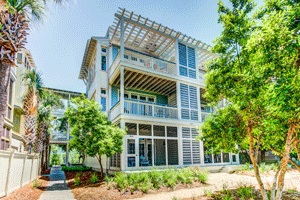 WaterColor Condominium 1660, (Also known as 1660 E. Hwy 30a) built in 2003, is located in the beautiful planned community of WaterColor, Fla., on the south side of Scenic Highway 30A.

This building has four dedicated residential floors. Its four two-story units come in two varieties; you can choose between these floor plans. Plan A includes two bedrooms, two bathrooms, and it has an area of 1,420 square feet. Plan B is more compact: It features one bedroom, two bathrooms, and an area of 1,160 square feet. The lower two floors of the building are made up of
two Plan A units, and the upper two floors are comprised of two Plan B units.

Condo 1660 affords views of the Gulf of Mexico as well as a state park; it's especially lovely to take in this scenery from the rooftop terraces. In addition, a private beach club is just a brief walk from this complex, and WaterColor's Town Center, an upscale shopping and dining district, is also a short distance away. Plus, the area offers many exciting activities: jogging, cycling, tennis, swimming, and more.

The beach communities along Florida's 30A are among the most alluring places in North America. The architecture is distinct. The people are friendly. And the air is redolent of the history and traditions of the sea. WaterColor Condo 1660 perfectly encapsulates that atmosphere. At the same time, this property represents a new model of living; it provides each of its residents with a lifestyle that's full of recreation and convenience.
If you're looking for other WaterColor condos for sale, check out our main page.
Floor Plans
click below to see the floor plan.
Plat Map
click below to see the plat map.