BeachCrest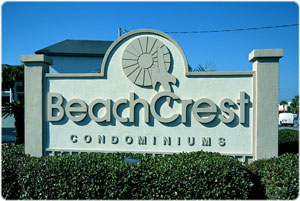 Welcome to BeachCrest Condominiums, a boutique condominium building located in Seagrove Beach, along Highway 30A. This 12-story, 70-unit building overlooks the shimmering waters of the Gulf of Mexico and boasts prime access to the white sands of the Emerald Coast. Each unit features two bedrooms, two bathrooms, a dedicated laundry room, a deluxe kitchen and 1,000 square feet of living space. Each unit also includes a balcony that commands an oceanside view, providing an ideal location to enjoy the natural scenery of Seagrove Beach. The building itself, constructed in 1988, features many thoughtful amenities, including a heated pool, a community cook-out site with gas grills and a play area for children. Residents of BeachCrest also have exclusive access to the building's beach boardwalk.
Within walking distance, residents can find a wide range of restaurants to provide a dining experience for almost any occasion, from a formal five-star restaurant to a casual sports bar. Adventurous residents can take advantage of the nearby bike path. The 18-mile path cuts through quiet seaside communities and fascinating natural environments as it follows Highway 30A.
If you're looking for other Seagrove Beach condos for sale, check out our main page.