Villas at Sunset Beach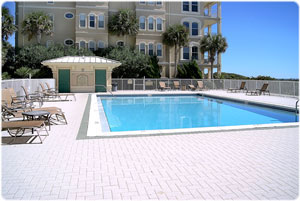 The Villas at Sunset Beach are gulf front condos that are located across from Seacrest Beach. Residents of the 24 units at the Villas at Sunset Beach live off of Highway 30A on the south side directly on the Gulf of Mexico. The property offers two distinctly different floor plans: option A is a three bedroom, three bath unit, and option B features four bedrooms and three bathrooms.
The design of the Villas at Sunset Beach is very similar to the Villas at Seacrest Beach, and each set of condos is built into three buildings that contain four floors and eight units. Although there are four different floors in each building, the first floor contains only the three bedroom, three bath floor plan. Therefore, all of the four bedroom condos are located on an upper floor. All tenants have access to a private pool that is conveniently located outside of building B.