55 Central Square Villas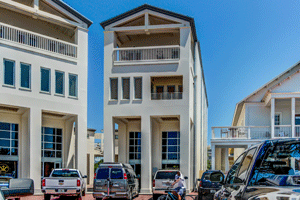 Built in 2007, 55 Central Square Villas combines commercial and residential use within the 3-story complex. The first story serves a commercial purpose while the two top stories are residential units. Unit B, which covers the second story, spreads across 2,410 square feet and includes three bedrooms plus a bunk, three bathrooms and two assigned parking spots. The top floor unit, Unit C, covers 1,700 square feet and consists of two bedrooms, two bathrooms and one assigned parking space. Both units include premium
plumbing and steam showers in the master bathrooms. High-end luxury best describes the residential units. Imported French limestone finishes the lobby of each unit, and the opulence continues with granite counter tops and expertly crafted mahogany cabinets in the gourmet kitchens. Stainless Viking appliances and a sub-zero refrigerator with a built-in ice maker highlight the kitchens' splendor. Custom woodwork, gas fireplaces, high ceilings and a sound system throughout exemplify the attention to detail in both spacious units.
Nestled in the heart of Seaside, 55 Central Square Villas overlooks the community's amphitheater and faces the Gulf. The complex bears a striking resemblance to its neighboring complex, Lyceum Gateway. The two complexes were created purposely to appear as a single complex, but they are separate entities. The purpose behind the similarity stems from the dream of Seaside's founder, Robert Davis. Davis envisioned a specific appeal and lifestyle when he founded Seaside, so when separate owners purchased the two properties, both owners could only erect buildings of a particular design by San Francisco's renowned architect Dan Solomon. The firm of Brasfield and Gorrie masterfully constructed Solomon's design and incorporated geothermal heating and cooling with a SEER-30 rating that does not require an external AC condenser. The buildings meld with the relaxed Seaside attitude of Davis's vision.
If you're looking for other Seaside Florida condos for sale, check out our main page.
Floor Plans
Click below on any of the units to see the floor plan.