Mercado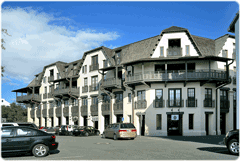 Barrett Square straddles Highway 30A with North Barrett Square on the north side of the road and South Barrett Square on the south side. The Mercado is in Barrett Square, on the south side of 30A. Barrett Square is in the heart of Rosemary Beach where the towns shops and restaurants are located, and the Mercado is situated over the steak house on the east side of South Barrett Square.
The first and second floors are for commercial use only, and the third and fourth floors consist of residential flats and townhouses. Residential flats occupy a single story, and the townhouses are two-story units.
If you're looking for other Rosemary Beach condos for sale, check out our main page.