WaterColor Condo 6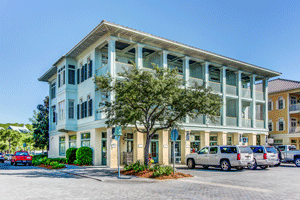 Built in 2002, WaterColor Condo 6 closely resembles WaterColor Condo 4, its northern neighbor. This distinctive Gulf view condominium sits on the southern side of gorgeous Highway 30A and boasts a convenient mixture of residential and commercial space. Its three stories contain four residential units that adhere to two distinct floor plans.
Both plans feature two bedrooms and 2.5 baths. With 1,744 square feet of interior space, the two inside units are slightly larger than the two 1,658 square foot outside units. All four of Condo 6's two-story units occupy the second and third floors of the property. The first floor consists entirely of commercial space, and the building features an elevator that serves each of its floors.
Conveniently located WaterColor Condo 6 sits immediately adjacent to the private Gulf Front Beach Club, one of the WaterColor community's signature attractions. It's also just a short walk to the fine restaurants and shops of WaterColor Towncenter. For active residents, Condo 6 offers easy access to the community's indoor and outdoor recreational amenities, including several hard surface tennis courts, sparkling community pools and miles of biking and walking trails.
Those who enjoy paddleboarding, kayaking and other water sports can easily access beautiful Western Lake, a pristine coastal lake within an untouched dune ecosystem. Best of all, WaterColor Condo 6 is just a short stroll to the laid-back community of Seaside. Like the resort's other distinctive properties, Condo 6 is inspired by a new vision for waterside living and is truly worthy of its place among the modern conveniences of WaterColor Towncenter and the natural beauty of the Gulf.
If you're looking for other WaterColor condos for sale, check out our main page.
Floor Plans
click below to see the floor plan.
Plat Map
click below to see the plat map.