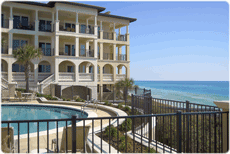 The highest point on the Gulf of Mexico in the United Sates is Blue Mountain Beach in Florida. Sitting on this highest point of the Gulf is the gated condominium community appropriately named Bella Vita. The English translation of the Italian phrase is Beautiful Life. The stunning views of the emerald coastline of the Gulf of Mexico that the Bella Vita Blue Mountain Beach location provides are a wonderful part of the beautiful life there. An old Indian legend says that Blue Mountain Beach
leading to a beautiful, cascading fountain at one end of this piazza. On the opposite side of the fountain, two tiered pools overlook the Gulf. One pool is heated seasonally, and there is a large, beautiful garden around each pool.
Condos for sale
More information
While the three buildings are of a true Italian architecture, each has its own characteristics; however, each also blends with the other two buildings, the piazza and the Gulf. The result is much like seaside Tuscan villas in an Italian hillside village. The luxury of the 48 residences of the Bella Vita condos is truly enhanced by the exquisite colors, textures and beauty of the landscape that surrounds them.

Other Bella Vita amenities include covered garages on the ground level, elevators, keyless entry, a state-of-the-art fitness center, a grand hall with a library, and a mail center. It is only a short drive from Bella Vita to areas which have excellent dining and shopping. Five-star restaurants and pastry shops provide delightful culinary experiences. There are also small museums and art galleries, specialty shops and boutiques, abundant wildflowers and green trails for hiking and biking, antique shops containing unique items, challenging golf courses, concerts in the parks and other enjoyable events and activities.