Opus in Seaside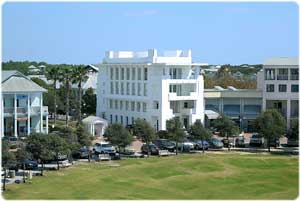 Built in 2003, the Opus in the community-based town of Seaside mixes business and residential property in a four-story building facing Central Square's amphitheater. Designed by Scott Merrill, an award-winning architect, the building comprises Unit A, the first story dedicated to retail, Unit B, the smaller condominium on the second story, and Units C and D, which form the larger penthouse condominium on the third and fourth stories.
Unit B has two bedrooms, covers 1,660 square feet and features small, private balconies nestled within the top portion of the two-story loggia. The 3,300 square foot, four-bedroom penthouse features sole enjoyment of the magnificent roof terrace and the large windows facing the avenue provide an expansive view of the town and beach. A secured elevator services both condominium units. The building sits at the meeting point of the commercial square and a residential avenue. Seaside, a town built on one man's dream and personal stake of 80 acres, offers true community ambiance in the spirit of a small town. The Opus resides in the heart of this Gulf town and within conveniently close proximity to dining, shopping and beach activities.
If you're looking for other Seaside Florida condos for sale, check out our main page.
Floor Plans
Click below on any of the units to see the floor plan.
2 bedroom
Penthouse