WaterColor condo 30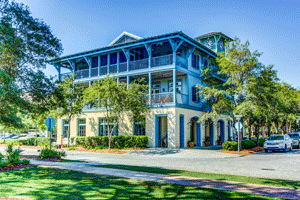 Built in the year 2000, WaterColor condominium number 30 is a three-story building with a total of four units. Each one-story unit follows the Plan C floor plan. Each unit measures 1127 sq. ft and has one bedroom and two bathrooms. WaterColor condominium number 30 is a mixed-use building that combines
retail space on the bottom floor with residential space on the top two floors. Units on the top floor have a large porch, while those below them have a smaller porch for residents to enjoy. WaterColor condominium number 30 has slight gulf-views with two units per floor, one on the east side and one on the west side of the building.

Residents of WaterColor condominium number 30 have access to the beauty of WaterColor, Florida. The vibrant residential community and beach resort offers residents a slice of southern coastal living. WaterColor combines vast natural beauty with a small-town landscape, creating a unique living environment. WaterColor offers many amenities for residents, including the WaterColor Beach Club, parks, gardens, pools and amphitheater. For those that like to get out and experience life, WaterColor has many activities to partake in, including spas, golf and fine dining. Living in WaterColor condominium number 30 means living in WaterColor, Florida and becoming a part of a vibrant and beautiful community.
If you're looking for other WaterColor condos for sale, check out our main page.
Floor Plan
Click below to see the floor plan.
Building Plan
click below to see the building plan.
Plat Map
click below to see the plat map.