Sea Bluff Condo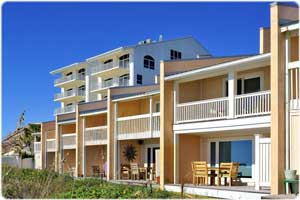 The Sea Bluff Condominium in Blue Mountain Beach consists of 19 units within three buildings. The Gulf-front building, Phase I, contains seven units within two stories. Each unit of Phase I holds two bedrooms and 2.5 bathrooms in about 1,200 square feet. In addition to patios, the Phase I units feature balconies off the master bedrooms, which overlook the spectacularly blue Gulf.
Set behind Phase I, the Phase II building also has a Gulf view, and the Phase III building rests beside scenic Highway 30A. The Phases II and III three-story buildings each feature six units with about 1,200 square feet of living space. Both buildings' units include two bedrooms, 2.5 bathrooms, a patio and two balconies that overlook the complex's tempting swimming pool. Each unit in Phase II & III has a garage. The Sea Bluff Condominium complex was constructed in 1984 atop a 30-foot bluff, which allows the complex to boast one of Highway 30A's highest elevation vistas of the Gulf. The 30A lifestyle embraces both lavish flair and laid-back charm, and Sea Bluff is situated within a few steps of the shops and eateries exemplifying this lifestyle. The complex provides direct access to South Walton's beaches and the 30A walking and biking trail. As either a permanent residence or a rental property, the Sea Bluff Condominium bestows splendid living and lifestyle quarters.
If you're looking for other Blue Mountain Beach condos for sale, check out our main page.
Floor Plans
Click below on any of the units to see the floor plan.