WaterColor Condo 1735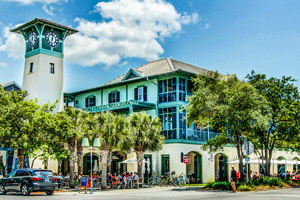 Built in 2000, WaterColor Condominium 1735 has one floor of commercial space at its base and two residential floors above. The mixed-use building affords beautiful views of the nearby Gulf of Mexico and contains a total of six residential units in two slightly different floor plans called Plan A and Plan B. All six units occupy one level and feature
approximately 1,360 square feet of usable interior space in a two-bedroom, two-bath configuration. While each individual space has at least one porch or balcony that overlooks Highway 30A, the unit on the second floor of the building's west end boasts a second balcony that offers a sweeping view of the WaterColor Towncenter. The community's clock tower and waterfall feature are also visible from this vantage point. This second balcony adds about 444 square feet to the unit's total usable floor space.

WaterColor Condominium 1735 lies within walking or biking distance of the WaterColor community's most popular amenities. To the north, Western Lake attracts freshwater fishing enthusiasts, boaters and folks who just want to relax by the water. The adjacent Boat House offers paddle-boat, kayak and canoe rentals for residents and visitors.

Fitness enthusiasts can use the fitness machines at WaterColor Workout or visit the spa facilities at the WaterColor Beach Club to recharge after a long day of exercise. 500 acres of walking and jogging trails keep even the most active residents occupied. To the south, a broad beach overlooks the Gulf of Mexico and protects an active dune ecosystem. In addition to regularly scheduled cultural events, the boutiques and restaurants of WaterColor Towncenter keep residents and visitors occupied. Residents also love that the bustling town of Seaside lies within walking distance.
If you're looking for other WaterColor condos for sale, check out our main page.
Floor Plan
click below to see the floor plan.
Building Plan
Click below to see the building plan.
Plat Map
click below to see the plat map.