WaterColor condo 45 & 46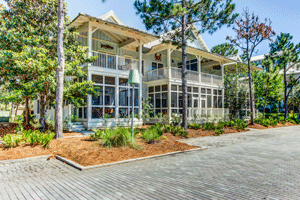 Built in 2001, WaterColor condominiums 45 and 46 overlook Cerulean Park on the north side of scenic Highway 30A. Located across from each other, the two-story buildings are nearly identical in structure. Condominium number 45 is on the west side of Cerulean Park while number 46 sits on the east side. Each of the two buildings contains four units, and each unit is a two-story, multifamily residence. The floor plan for
all units is plan F, which spans 1,418 square feet and includes two bedrooms and 2.5 bathrooms. Both bedrooms are on the bottom floor; the living area and kitchen are on the top floor. Plan F units also feature a large porch off the master bedroom and another off the living area. Although the floor plans are otherwise identical, units in condominium number 46 offer 90 additional square feet of porch space.

Residents in WaterColor condominiums 45 and 46 enjoy easy access to Cerulean Park and WaterColor's many amenities. Within walking distance, the 45,000 square foot WaterColor Beach Club features a renowned local restaurant, an open-air bar, locker rooms, family swimming facilities and a full-service towel hut that offers beach towels and other beach-related items. For those with active lifestyles, a complete woodland trail system and a wide range of water activities is available. WaterColor residents also enjoy access to the community's hiking and biking trails and the famous white sand beaches on the Gulf of Mexico.
If you're looking for other WaterColor condos for sale, check out our main page.
Floor Plan
Click below to see the floor plan.
Building Plans
click below to see the building plans.
Plat Map
click below to see the plat map.