WaterColor Condo 1777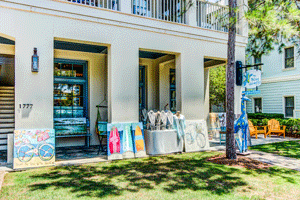 Built in 2000, WaterColor Condominium 1777 is a three-story condominium with slight Gulf views. This residence sits on the north side of scenic Highway 30A. While the bottom floor is commercial, the two top floors are residential, perfect for residents and vacationers of all ages. Altogether, the building has
four residential units -- two units on each of the upper floors. In these single-level condos with identical floorplans, there are two bedrooms and two bathrooms, 1,448 square feet under air, and 339 square feet of porch space overlooking Highway 30A. Some units also feature a bonus bunk room.

Condo 1777 is a jewel waiting to be discovered in the WaterColor community on Florida's Gulf Coast. This condo is just steps from the exclusive Gulf Front Beach Club and dining and shopping opportunities within WaterColor Towncenter. Enjoy the laidback lifestyle of this private enclave where it's fun to walk or ride your bike along picturesque pathways or have a game of tennis or a dip in one of the community pools. WaterColor also features Western Lake activities and beach recreation. In addition to all these great amenities, the town of Seaside is just a short walk or bike ride away.
If you're looking for other WaterColor condos for sale, check out our main page.
Floor Plan
click below to see the floor plan.
Building Plan
Click below to see the building plan.
Plat Map
click below to see the plat map.