Dreamland Heights Condominium at Seaside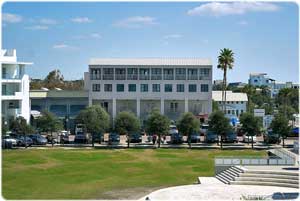 When you first arrive, a short elevator ride transports you to a courtyard that's exclusive to the residents of the Dreamland Heights Condo at Seaside. Built in 1989, Dreamland Heights offers views of the sparkling Gulf while overlooking the amphitheater and Central Square in the popular community of Seaside.
While the first two floors of this four-story building house commercial concerns, the upper two are strictly residential, containing the building's eight two-level condominiums.
At Dreamland Heights, units 1 through 5 go by the name of "Boisterous." These five one-bedroom, one-bath condos offer identical 728-square-foot floor plans, and all of them face westward toward Central Square.
Each of the three remaining units features a private terrace to which its residents can escape to soak up the sun or bask in the glow of the ever-changing sunsets. These three romantically named condos include the 504-square-foot Poet, 546-square-foot Musician and 448-square-foot Mathematician, each of which offers a one-bedroom, one-bath layout.
All Dreamland residents benefit from their complex's Seaside location. This community's Gulf coast beaches, eclectic shopping, recreational opportunities and pastel ambience make Dreamland Heights equally perfect as a permanent residence, seasonal getaway or sought-after rental property.
If you're looking for other Seaside condos for sale, check out our main page.
Floor Plans
Click below on any of the units to see the floor plan.
Site Plans
click below to see the site plans.