WaterColor condo 27 & 28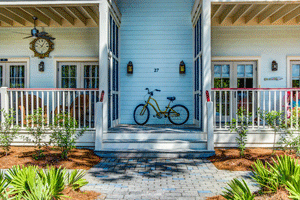 WaterColor condominium numbers 27 and 28 are identical two-story buildings that overlook Cerulean Park. Located on the north side of scenic highway 30A, the two residential buildings sit across from each other. Condominium number 28 was built in 2000, while number 27 was built in 2001. Building number 27 is positioned on the west side of Cerulean Park; number 28 is on the east side. Each building contains
four one-story units with two units occupying each floor. All units are floor plan B, which features 1,478 square feet and includes two bedrooms and two bathrooms. Second floor units have an alternative dining room that adds an extra 35 square feet of living space.

WaterColor residents enjoy a relaxing living environment and access to a range of amenities that includes Town Center shopping and WaterColor's state-of-the-art fitness center. The 45,000 square foot WaterColor Beach Club is a town landmark that features a restaurant, an open-air bar and community swimming pools complete with locker rooms. Tennis fans can take advantage of private lessons at the tennis facility, while those who love the water can enjoy boating, fishing, kayaking and other water activities on the community beaches and Western Lake. WaterColor also boasts a number of parks and gardens. Joggers and bikers will love the woodland trails that wind through the community. Festivals, camping events and other kid-friendly family activities are scheduled throughout the year.
If you're looking for other WaterColor condos for sale, check out our main page.
Floor Plan
Click below to see the floor plan.
Building Plan
click below to see the building plan.
Plat Map
click below to see the plat map.