The Georgetown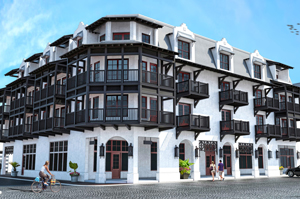 The Georgetown blends style with comfort and convenience and is located along the sparkling waters of the Gulf of Mexico in beautiful Rosemary Beach. With construction beginning early in 2016, The Georgetown will be the final building constructed on North Barrett Square and has a proposed completion date of 2017.
Condos for sale
The Georgetown condominium consists of four stories. The bottom story is designed as commercial space while the upper three stories are devoted solely to residential occupants. The Georgetown's nine residential, single-story units are generously spacious with floor plans ranging from 1,992 to 2,482 square feet.
The space inside a Georgetown unit is not only plentiful but also diverse. Three bedrooms, three bathrooms, a large bunkroom, and numerous balconies are part of what these residences boast. Additionally, a laundry room, utility sink and a storage room that is both deeded and conditioned make the Georgetown stand out among other residential condominiums. The deeded, covered parking space that is included with each unit means that The Georgetown offers something that is normally difficult to find in Rosemary Beach.
The Georgetown's interior design is inspired by an architectural style known as transitional style. The warm, wire-brushed oak floors comprising living spaces, marble counters made of Calcutta gold, duel fuel range, 36-inch refrigerator and wine cooler, and glass frameless showers are examples of how transitional style meshes both classic and modern elements to create a look that reflects the best of both time periods.
If you're looking for other Rosemary Beach condos for sale, check out our main page.
Floor Plans
click below to see the floor plan.
Interior Highlights