WaterColor Condo 1650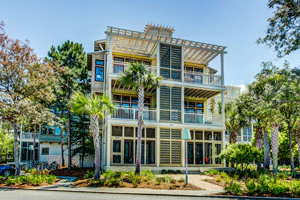 WaterColor Condominium 1650, also known as 1650 East County Hwy. 30A, is a Gulf view condominium that's located on the beach side of beautiful Highway 30A, boasts four floors of dedicated residential space and two attractive floor plans. Plan C, a truly spacious configuration, features three bedrooms and three bathrooms in a total floor area of 2,080 square feet. Plan D offers a cozy setup with one bedroom and two bathrooms across 895 square feet.

Built in 2003, WaterColor Condominium 1650 is
comprised of three residential units. The entirety of the first two floors is occupied by a single two-story unit that follows the Plan C configuration. The top two floors feature two two-story units that adhere to the Plan D floor plan. On the roof, private terraces offer expansive views of the Gulf of Mexico as well as beautiful Grayton Beach State Park.

As if its on-site features weren't enough, WaterColor Condominium 1650 is located within easy walking distance of the Gulf Front Beach Club. This private club offers easy access to a white-sand beach and the calm waters of the Gulf. Residents can also shop and dine at WaterColor Towncenter or take a short stroll to legendary Seaside, a quaint community that boasts high-end retail outlets, restaurants and outfitters.

Condo 1650 is also within walking or biking distance of the WaterColor community's diverse recreational and cultural amenities. Locals can fish or boat on calm, clear Western Lake or jog along miles of forested trails. The community's comprehensive tennis center features a stadium court and five Har Tru HydroCourts. For active residents, the spacious neighborhood pool and modern WaterColor Workout facility offer recreation opportunities in civilized, family-friendly settings.
If you're looking for other WaterColor condos for sale, check out our main page.
Floor Plans
click below to see the floor plan.
Plat Map
click below to see the plat map.