WaterColor Condo 4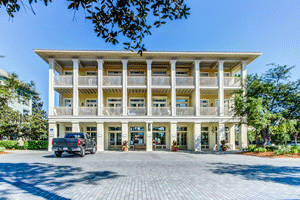 Watercolor's number four condo is a three-story gulf view condominium that was built in 2002. The building's bottom floor is commercial; the two upper floors are residential. Number four contains a total of four residential units. Each unit is a two-story, multifamily residence located on the south side of scenic highway 30A.
Ranging in size from 1,658 square feet to 1,833 square feet, each unit's floor plan features two bedrooms and 2.5 baths. Residents of condominium number four enjoy balconies located off their living rooms and additional balconies off their third-level master bedrooms. Both third-level bedrooms feature their own private baths.
Its beach-side location in the Watercolor town center gives condominium number four's residents easy access to the Gulf of Mexico and a variety of retail shops and recreational activities. It is only a short distance away from the Watercolor Workout Center, Tennis Center, Beach Club and the popular Fish out of Water restaurant.
If you're looking for other WaterColor condos for sale, check out our main page.
Floor Plans
click below to see the floor plan.
Plat Map
click below to see the plat map.