WaterColor Condo 20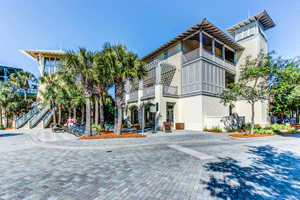 With stunning views overlooking the Gulf of Mexico and Western Lake, WaterColor Condo 20 is situated on the south side of HWY 30A. This three-story condominium combines residential living on the top with retail space on the bottom. Built in 2002, WaterColor Condo 20 offers four residential units two on the second floor and an additional two on the third. Retail space is on the ground floor.
All of the living units offer the same floor plan, though the second floor residences offer a side terrace as well. Each unit contains 1,546 square feet of living space with two bedrooms and two bathrooms. A fitness center on the ground floor makes maintaining a workout routine a breeze for residents. The WaterColor Beach Club is also located right next door for added convenience.
Residents of WaterColor Condominiums can take advantage of the 499 beautiful acres of woodlands, pools, gardens, and more that make up this delightful beach community. The Boat House on Western Lake is also located within walking distance of WaterColor Condominium 20. At the lake, residents can take in the sights and sounds of nature, relax in the sun to the music of the lake, spend the day catching crabs, or explore the lake in a canoe, kayak, or on a paddle board. Take a refreshing bike ride to the pristine beaches of the Emerald Coast or spend the day fishing for freshwater or saltwater fish. With the gulf and the lake located in such close proximity, the choice is yours! While the adults spend the day relaxing, kids can enjoy a variety of entertaining activities at Camp WaterColor. The whole family can take advantage of the boutique shops, spa, fitness center, and gourmet restaurants that splash the area.
If you're looking for other WaterColor condos for sale, check out our main page.
Floor Plans
click below to see the floor plan.
Plat Map
click below to see the plat map.