WaterColor condo 10 & 11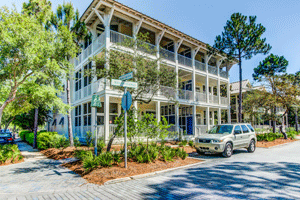 Situated in a master-planned community designed for natural beauty, quiet neighborhoods and old-fashioned hospitality, WaterColor Condominiums 10 and 11 face each other on opposite sides of Cerulean Park on the north side of Florida's scenic Highway 30A. Condominium 11, built in 2002, is the mirror image of Condominium 10, completed in 2001. Both contain three floors, with two one-story housing units per floor. Each
unit provides 1,448 square feet of living space and has two bedrooms, two baths and a wraparound porch. Elevators provide easy access to upper floors. Residents of WaterColor enjoy the many walking and biking paths that cross the community's 499 acres. Pools, gardens, woodlands, and the Boat House on Western Lake all are within walking distance. At the lake, one can catch crabs or simply relax and enjoy the sights of lake water and coastal dunes. Those who are more adventurous can explore the lake's waters on paddleboards, canoes, kayaks or boats. The pristine beaches of the Florida Gulf's Emerald Coast, south of Highway 30A, are a bicycle ride away from WaterColor Condominiums 10 and 11. With the waters of the lake and the gulf so near, those who like to fish can try for both freshwater and saltwater varieties. Kids enjoy activities at Camp Watercolor, and the whole family can participate in various types of sports or attend picnics and cultural events. Nearby gourmet restaurants and boutique shops, as well as a spa and fitness center, are only a few of the many amenities available to WaterColor visitors and residents.
If you're looking for other WaterColor condos for sale, check out our main page.
Floor Plan
Click below to see the floor plan.
Building Plan
click below to see the building plan.
Plat Map
click below to see the plat map.