WaterColor Condo 1640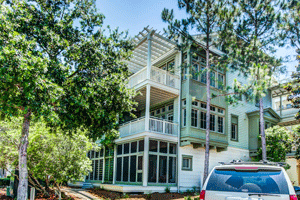 Built in 2003 on the south side of beautiful Highway 30A, WaterColor Condominium 1640, also known as 1640 East County Hwy. 30A, is a distinctive Gulf view condominium with four residential stories, two distinct floor plans and a total of four spacious units.

Located on the building's first and second floors, the Floor Plan A units have two bedrooms, two bathrooms and 1,420 square feet of
usable floor space. WaterColor Condominium 1640's two Floor Plan B units occupy the top two floors of the structure and feature one bedroom, two bathrooms and 1,160 square feet of occupied floor space. All four of the building's units have two full-size stories. What's more, the upper units' spacious balconies have expansive views of the Gulf to the south and Grayton Beach State Park to the west.

WaterColor Condominium 1640 is close to the community's signature attractions. Gulf Front Beach Club, a private club with a sparkling swimming pool and top-notch lounge, lies within easy walking distance. For boaters, the Boat House at Western Lake provides endless recreation opportunities on the lake's smooth waters. Active residents and visitors can take to the trails that wind through WaterColor's wooded environs, catch a round of tennis at one of the many local courts or use WaterColor Workout for gym training. Shoppers and diners can visit the community's many boutiques or sample local seafood at the award-winning Fish Out of Water restaurant. In addition to the incredible amenities that lie just steps from its front door, WaterColor Condominium 1640 is just a short stroll from the legendary village of Seaside.
If you're looking for other WaterColor condos for sale, check out our main page.
Floor Plans
click below to see the floor plan.
Plat Map
click below to see the plat map.