WaterColor Condo 1701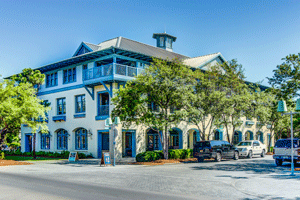 Erected in 2000, WaterColor Condominium 1701 is a mixed-use structure with two floors of retail space and a top floor with five comfortable residential units. The building has three distinct floor plans that range from a 1,090-square-foot spread with one bedroom and 1.5 baths to a 1,400-square-foot space with two bedrooms and
two full baths. WaterColor Condominium 1701 is set back from the north side of Florida Highway 30A and offers easy access to the shops, restaurants and gathering places of the Town Center at WaterColor. All five units have balconies that overlook this mixed-use space and offer excellent views of the nearby Gulf.

WaterColor Condominium 1701 lies close to many of the 500-acre community's amenities. For kayakers, canoeists and paddle-boat enthusiasts, the Boat House at Western Lake lies within walking or biking distance. The lake's shore offers excellent views of the surrounding landscape and supports a range of local wildlife species, including crabs and water birds. Several pools and park spaces can be accessed by foot or bike as well.

To the south, an expansive beachfront landscape of dunes and scrub lies across Highway 30A. Kids and adults alike can fish for saltwater species in the clear waters of the Gulf of Mexico or stick to freshwater varieties in the adjacent lake. Nearby Camp WaterColor offers structured, kid-friendly activities on a year-round basis. Picnics, art fairs, musical performances and other gatherings keep residents of all ages entertained. For active residents, the Beach Club and WaterColor Workout offer spa facilities, fitness machines and outdoor exercise spaces. After their workouts are complete, locals and visitors can browse nearby boutiques or choose from an impressive slate of gourmet restaurants. For those who want even more stimulation and culture, the town of Seaside is just a short walk or bike ride away.
If you're looking for other WaterColor condos for sale, check out our main page.
Floor Plan
click below to see the floor plan.
Building Plan
Click below to see the building plan.
Plat Map
click below to see the plat map.